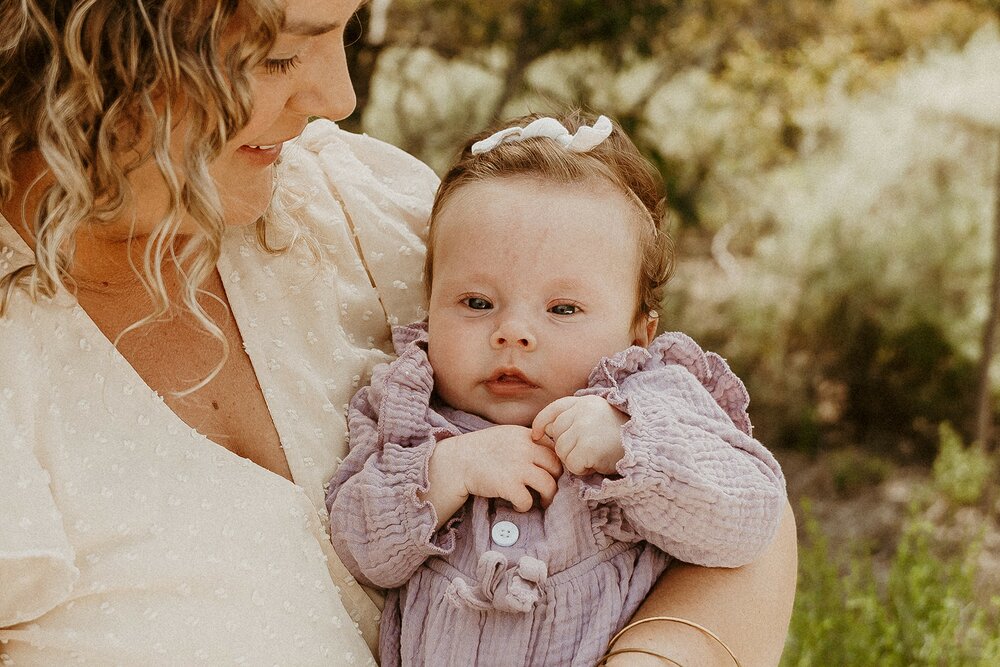 Obituary of Maisyn Jane Davis
Please share a memory of Maisyn to include in a keepsake book for family and friends.
Maisyn Jane Davis was embraced into the arms of Jesus on Saturday May 20th, 2023. She was surrounded and held by her close family and a medical team who treated her as if she was their own at Children's Hospital Los Angeles. Maisyn was born in Santa Clarita, CA to parents, Philp and Sara Davis, on January 18th, 2023. She was the beloved sister of Callianne Sue and the best furry friend to her Labradoodle Zoe. Maisyn Jane, Little Baby M, Sweet MJ, and Maisy Daisy were all names given to her by her family during her four months of life. Maisyn Jane came into this world as the strongest little girl and overcame a lot of challenges during her life. From the moment Philip and Sara heard her first cry they knew she was going to be a fierce fighter and that proved true through her final breath. She showed great strength battling colic, tongue & lip tie surgery, surviving RSV, and hug attacks from her Big Sis. Despite these challenges, Maisyn had the sweetest, most angelic presence that provided comfort to her family and they are beyond thankful for the time they got to spend with her. Knowing MJ and losing MJ will always be better than not knowing her at all. Maisyn Jane came into the world with the sweetest angel kiss on her forehead and left the world with the strongest angel wings. Maisyn Jane blessed her family with soft smiles, singing songs, and a few too many diaper blowouts. Maisyn loved her morning routine with her family as she would eagerly wait for Daddy and Sissy to come in to tell her "Good Morning" after her morning bottle. She then would go down stairs and belt out in worship "Thank God I Do" by Lauren Daigle and "I See Grace" by Micah Tyler while everyone ate breakfast. After Daddy and Sissy rushed off to school, Mommy and MJ got one on one time to play and sing together until Daddy came home and snuggled her until nap time. Though Maisyn did not live close to Grandparents or extended family, she saw them nearly every day of her life through FaceTime. Maisyn loved listening to books read by Nana and Baboo, seeing her silly cousins run around, and hearing about Grams T's day. Maisyn Jane was greeted in Heaven by her new fishing buddy Great Grandpa (Ron Squires), trucking buddy Great Grandpa (John Hurley), card playing companion Great-Great Grandma (Waneta Baumgartner), as well as many others. There are many hearts that will have to continue to learn how to grieve her loss including: Mommy and Daddy (Philip and Sara Davis), Big Sis (Callianne Sue), Baboo and Nana (Dave and Kim Schlatter), `Grams T (Tricia Alloway), Aunt Mandy (Trevan, Levi, Micah, and Ezra Hamm), Uncle Tyler (Erica, Evan, and Reagan Schlatter), Auntie Shelby Davis (Ace the Chug), and Uncle Heath Elliott, along with many Great Grandparents, Great Aunts and Uncles, bushel of extended cousins, and family friends. Maisyn Jane will be laid to rest where Mommy and Daddy began their marriage in Stroh, Indiana and will be celebrated by the minister that married them, Craig Howie. The viewing will be Thursday June 1st from 2-4 PM with a break for the family from 4-5 PM resuming 5-7 PM. The funeral will be Friday June 2nd at 11 AM with a graveside service immediately following. Prior to the funeral, there will be a private viewing for the family at 10 AM. Both the viewing and funeral service will be held at: Stroh Church of Christ 4540 S. 1100 W, Hudson, IN 46747. The family requests that any monetary donations be made to Children's Hospital Los Angeles in honor of Maisyn.
Share Your Memory of
Maisyn
SANTA CLARITA VALLEY
Phone: (661) 902-3825
Fax: (661) 793-7090
Address: 26841 Ruether Ave., Suite A&B
Santa Clarita CA, 91350
FD# 2318
ANTELOPE VALLEY
Phone: (661) 945-0400
Fax: (661) 793-7090
Address: 44901-B 10th St. West, Lancaster, CA 93534
FD# 2055
VENTURA COUNTY
Phone: (805) 230-2297
Fax: (805) 426-8560

QUICK LINKS