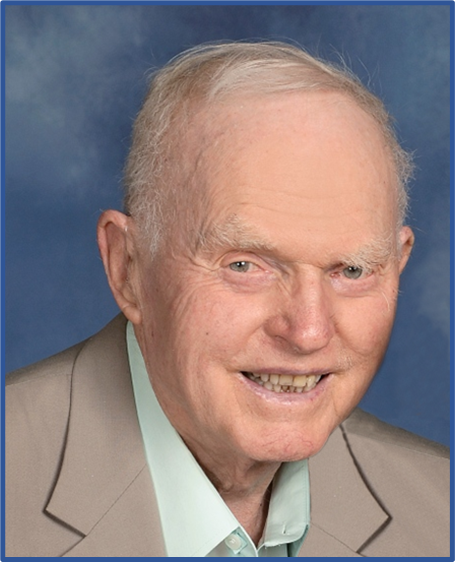 Obituary of Ronald Soderquist
Please share a memory of Ronald to include in a keepsake book for family and friends.
Dr. Ronald Soderquist June 22, 1927- October 11,2022 Dr. Ronald Soderquist of Thousand Oaks passed away on October 11, 2022, he was 95. At his bedside was his loving daughter, Ann. If you are part of Ron's community please join us for a Celebration of Life. There will be a service and lunch on January 14th at 12 noon. Holy Trinity Lutheran Church 1 W Avenida De Los Arboles, Thousand Oaks, CA 91360 Dr. Ron Soderquist lived in Thousand Oaks for 52 years. He moved the family from East Orange, New Jersey into the area in 1970 to establish the counseling department at California Lutheran University. Later he opened his own private counseling practices - California Family Counseling Center and Westlake Hypnosis, which served the community for the next 50 years. His wife, Elda and daughter Lynn, all worked together as Marriage and Family counselors. Ron helped thousands of people to overcome phobias, fears and marriage problems. Dr. Ron authored many articles, presented seminars, and created self -help CD's. Ron and Elda authored Marriage Equality, a book about how to create and maintain a happy and equal marriage. Ron was an athlete who loved to skate, ski, hike, play tennis, golf and go to the gym. Ron became a tennis player after the family moved to sunny California. When tennis became too difficult in his 80's Ron switched to golf and played into his 90's. Ron loved his family first. He was so proud of his wife, Elda, and daughter Lynn who worked with him as Family Therapists for 35 years. He loved to ski with his son Phil, who was a successful lawyer in San Francisco and his daughter Ann, an outdoor educator and business woman in Seattle. Elda, Phil and Lynn all predeceased Ron - a terrible sadness to him and Ann. Ron loved to be with his grandchildren, Emily, Kyle, Elise and Pierce. A lifelong Democrat and 52 year member of Holy Trinity Church, Ron loved his community, friends, his family and his work. He led a life of joy everyday, caring for those around him. We deeply miss the sound of Ron playing Chopin and Joplin on his piano. Our memories of him are a blessing. In lieu of flowers please donate to Save the Children-my parents always had a child or two they were sponsoring from around the world.
Share Your Memory of
Ronald
SANTA CLARITA VALLEY
Phone: (661) 902-3825
Fax: (661) 793-7090
Address: 26841 Ruether Ave., Suite A&B
Santa Clarita CA, 91350
FD# 2318
ANTELOPE VALLEY
Phone: (661) 945-0400
Fax: (661) 793-7090
Address: 44901-B 10th St. West, Lancaster, CA 93534
FD# 2055
VENTURA COUNTY
Phone: (805) 230-2297
Fax: (805) 426-8560

QUICK LINKS