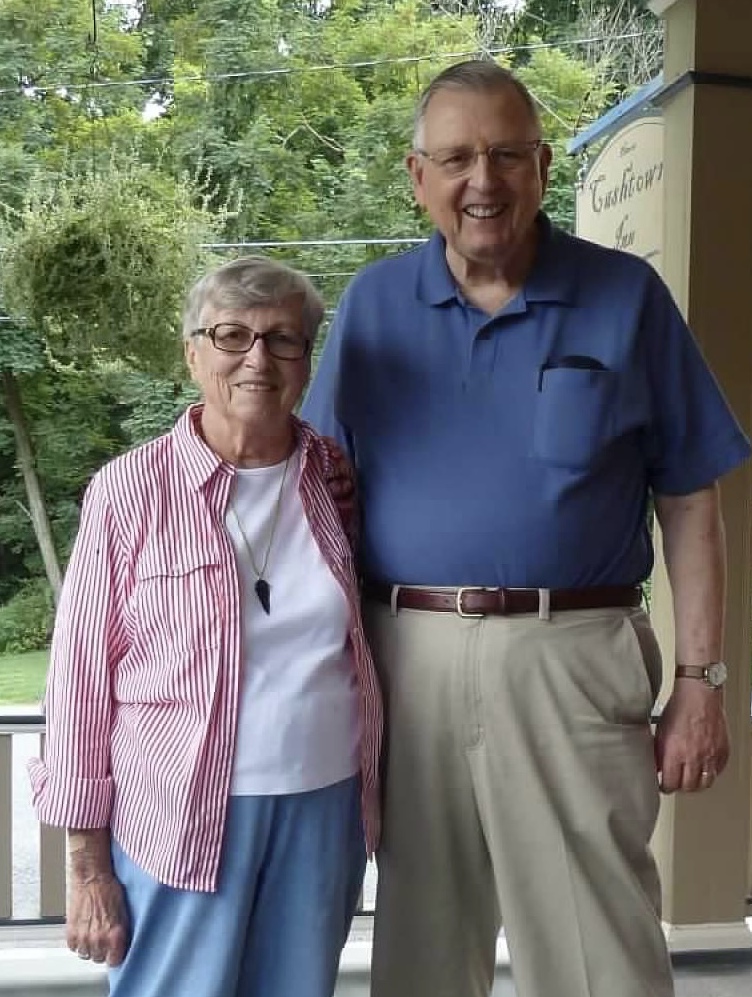 Obituary of Kathryn Jo Snyder Reynolds
Please share a memory of Kathryn to include in a keepsake book for family and friends.
Kathryn Reynolds, 90, passed away on July 30, 2023, after several years of gradually declining health at the Oakview Health Care Center in Thousand Oaks, California. The family will be having a private memorial service to honor her life on Saturday, September 2, 2023. Kathy was born on June 6, 1933, in San Bernardino, California, to Joseph and Alma Snyder. Kathy attended San Bernardino High School and enjoyed participating in couple's roller skating. She graduated in 1951 and attended Stanford University, where she earned her bachelor's degree, master's degree, and teaching credential. While at Stanford, she also met her future husband, Peter Reynolds, after his fraternity members tasked him with going next door to apologize to Kathy and her friends, who were splashed with water balloons while they were lying by the pool. Kathy married Peter Reynolds on September 3, 1955, when they were both 22 years old. The couple continued at Stanford earning advanced degrees. Upon graduation, they moved to Pittsburg, Pennsylvania, where Peter served as an officer in the U.S. Army, and Kathy gave birth to their daughter, Carol. In early 1960, the family moved to Sunnyvale, California, after Peter was hired by Lockheed. This is where they expanded their family with the birth of Eric, David, and Paul, respectively. In 1972, the family moved to Southern California after Peter was promoted to the Treasury Department of Lockheed. Kathy raised her four children in Chatsworth, California, where she was described by some of her children's friends as creating an environment like "Beaver Cleaver's house" thanks to her warmth and freshly baked cookies. Kathy also was known for her vast knowledge and fascination with history. When her children would watch Jeopardy, Kathy would call out the answers, without missing a beat, from the kitchen while cooking the family dinner. When her youngest son was in fourth grade, Kathy began teaching kindergarten at Egremont School in Chatsworth. She taught for twelve years. Her vast knowledge and passion for learning, combined with her love of children, made her an ideal teacher. Kathy also developed lifelong friendships with the women with whom she taught at Egremont. In the mid-90s, after Lockheed's merger with Martin Marieta, Kathy moved with Peter to Bethesda, Maryland, the site of the new corporate headquarters. While in Maryland, Kathy was able to nourish her appetite for history. She and Peter traveled to Washington D.C. often and visited the Smithsonian, the National Gallery of Art, the White House, and the homes of past presidents. Peter retired in 1999, and the couple made the most of their retirement, spending nearly two decades traveling with friends to exciting locations around the world, such as Ireland, France, Greece, London, China, Morocco, Japan, and Egypt. Kathy also enjoyed hosting her children's growing families at their home in Maryland, regaling them with stories of her travels, and taking them to historic sites near her home. Over time, it became important to Kathy and Peter to be closer to their children and grandchildren, and in late 2015 they moved to University Village in Thousand Oaks, California. The couple enjoyed several years in independent living, where Kathy was able to spoil her youngest grandchildren in her new home. Eventually, Peter, followed by Kathy, moved to Oakview Health Care Center at University Village. Peter passed away on August 21, 2022. Kathy celebrated her 90th birthday on June 6, 2023. Her room was filled with balloons, flowers, and cards. As Kathy's family read her birthday cards aloud, the word "wisdom" came up repeatedly. Kathy had a gift for listening and storytelling. She spent considerable time listening to her children, her children-in-law, and her grandchildren. She listened intently and without judgment, offering thoughtful advice that led to her so often being referred to as wise. She was also a master storyteller, especially when telling stories about history. Kathy had a huge heart, a robust laugh, and an incredible mind. Although she will be missed tremendously, she has left a lasting impact on all who knew her. Kathy is survived by her daughter, Carol Edwards; her three sons, Eric, David, and Paul Reynolds; her eight grandchildren, Karen Edwards, Scott Edwards, Lauren Reynolds, Austin Reynolds, Veronica Reynolds, Justine Reynolds, Grace Reynolds, and Vivien Reynolds; her brother, Gil Snyder, her sister-in-law, Jane Snyder; her three nephews, David, Michael, and John Snyder; and her children-in-law, Dana Edwards, Heidi Reynolds, and Tiffanee Reynolds.
Share Your Memory of
Kathryn
SANTA CLARITA VALLEY
Phone: (661) 902-3825
Fax: (661) 793-7090
Address: 26841 Ruether Ave., Suite A&B
Santa Clarita CA, 91350
FD# 2318
ANTELOPE VALLEY
Phone: (661) 945-0400
Fax: (661) 793-7090
Address: 44901-B 10th St. West, Lancaster, CA 93534
FD# 2055
VENTURA COUNTY
Phone: (805) 230-2297
Fax: (805) 426-8560

QUICK LINKS